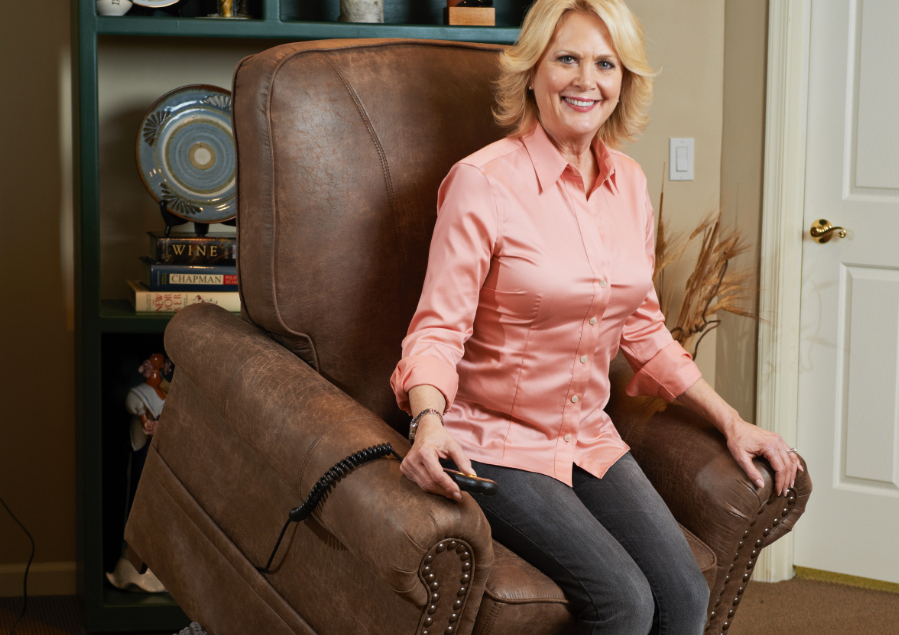 Lift Chair Shopping In Texas Made Easy
Buying a lift chair, which is sure to be your new favorite chair, is a personal choice that is significantly easier to make when you can touch and sit in the models found in any one of our many Texas store locations. Our friendly staff is also available to answer any questions you may have about the products we carry, which is another great reason our customers prefer to shop in our stores as opposed to online purchasing. A family-owned business, Medical Xpress is your one-stop-shop for all your health-related needs.
To further assist with your search, here are some of the top features lift chairs can offer that are useful to keep in mind as you try our models in the store:
2 Position Lift Chairs
These chairs are wonderful for people who would like to use them for daily routine purposes, such as watching television, reading, video gaming, or entertaining. The backrest will recline to a comfortable resting position, and the ottoman will elevate to support the user's legs in the reclined position.
3 Positions Lift Chairs
For those who like a little more of a recline while performing typical seated activities yet do not plan to sleep in the chair, the three backrest positions with these chairs work best. The ottoman functions the same as the two position lift chairs in order to properly support the user's legs and feet as you lean back. Adding an additional reclining position can, however, offer more flexibility for those who enjoy watching television or reading from a lower angle.
Infinite Lift Chairs
The ultimate in reclining comfort may be found with an infinite lift chair. Users can lay the backrest all the way flat while resting their feet on an independently elevated ottoman. This chair option is designed for sleeping in addition to typical seated activities. If the user is in need of a full recline for medical or sleeping purposes, this is a perfect choice.
However, it is also extremely useful for those who need to lie flat for physical therapy movements or alter their body positions periodically. While in the store looking at the lift chairs, you may want to check out our selection of body pillows and support accessories to provide more aid with such therapy requirements. If you do not find what you are looking for, let us know and we will try to order it to have it shipped straight to your home.
Relaxing Heat
In addition to the number of reclining positions, lift chairs can offer other popular features like heat and massage. The heat feels so good to tired, tense or achy muscles, especially on those cold wintery Texas nights. Plus, heat therapy is known to have a number of health benefits including reducing back pain, arthritis inflammation, muscle spasms, and joint stiffness. Heat may also increase the blood flow to areas of injury allowing the patient to heal faster.
Massage Therapy
In addition to the heating element, we all love to use the massage therapy feature! Models that come equipped with this therapeutic component are always a hit with our shoppers and for a good reason. The art of massage is used for health benefits such as improving one's circulation, posture, and immune system all while relieving symptoms of stress and lowering one's blood pressure. Although we cannot say a chair with this feature will save you a trip to visit your massage therapist, it is an added perk to select lift chair models that your sore muscles may thank you for buying.
Getting The Right Size
After learning about some of the key features of lift chairs, you may be ready to see the styles and features first hand in our stores conveniently located throughout Texas. However, it is important to note some lift chairs carry a more simple petite or standard sizing while others have many more sizing options. To ensure a proper fit for the user and user's lifestyle, it is also a good idea to have your user height and weight, along with the space measurements where the chair will be primarily located to be sure you select the correct size of chair.
As there are a lot of features, sizes, comfort levels, and colors to sort through, buying a lift chair can be made much easier by visiting one of our locations listed below. We have an example of most models on the floor in addition to a trained staff member waiting to help you decide the model that will best meet your needs and budget. Our prices are always competitive, and be sure to ask about our at-home repair service options for additional peace-of-mind during your buying experience. It's time to relax in comfort! Visit our stores for your new favorite chair today.