Tips for Holiday Travel with a Walker or Wheelchair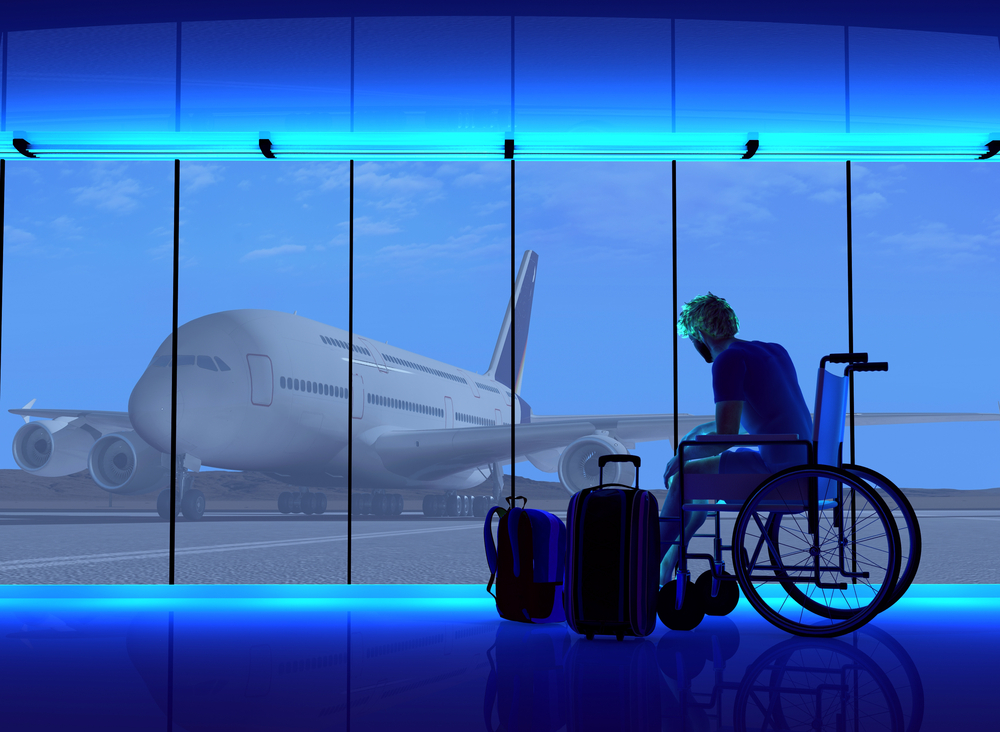 Traveling during the holidays is always stressful, but it gets much more stressful if you are traveling with, or you yourself require, a wheelchair or walker. They make your TSA check longer, slow down your boarding and deplaning process, and can cause other hassles. However, they're an absolute necessity for many people. So, if you're traveling with a walker or wheelchair this holiday season, here are a few tips to follow.
Arrive Extra Early
You should always arrive at the airport with plenty of time before your flight is supposed to begin boarding. But during the holidays, airports are busier, so you need to arrive even earlier. And, when traveling with a wheelchair or walker, you should give yourself even more time. All in all, you should plan to arrive at the airport two and a half or three hours before your flight. This might sound like a lot, but it is far better to spend some extra time at the terminal than to miss your flight due to long security lines.
Request a Wheelchair
When you're booking your flight, you should have the opportunity to request a wheelchair for yourself or your companion. It's a good idea to request a wheelchair, regardless of whether you're used to using a wheelchair or walker. Not only will using a wheelchair be quicker than navigating the airport with a walker, but it also ensures that the airline staff are aware of your mobility needs in advance.
If you'd like to use your own wheelchair through the airport (for example, if you have a motorized wheelchair to meet your mobility needs), this is generally okay. You will simply transfer to an airline-supplied wheelchair when you reach the boarding point, and your mobility aid will be checked and stored for easy access when you deplane.
Please note that these standards may vary depending on which airport you're at, and which airline you're using.
Plan for a TSA Inspection
Mobility aids can make the security checkpoint significantly more difficult, as you're unable to go through a scanner using one. Typically, this means you'll be asked to move to a specialized area for a manual search. This will involve being scanned with a handheld metal detector, as well as receiving a pat down. Your wheelchair will also be thoroughly inspected. This is one of those reasons why it's important to plan for some extra time at the airport when traveling with a walker or wheelchair.
Sit Near the Front
If at all possible, it is best to get a seat near the front of the plane so that you don't have to worry about walking a long distance down a narrow aisle. Typically, many airlines offer you the ability to pick your seat when you book your tickets, for a slightly higher price. However, it may be worth the few extra bucks to ensure you get an accessible seat.
If you didn't select your seat when booking your flight, you may still be able to get a seat near the front of the plan. When you get to your gate, just speak to the attendant at the desk. Airlines frequently hold off on assigning some seats near the front of the plan for those with mobility issues. Ask if it's possible to get one of those seats; they're usually very accommodating.
Board First
Before anyone else is permitted to board, airlines will typically invite those with mobility issues to board the plane, so that they have a little extra time to get situated. Make sure you take advantage of this, so you have plenty of time to get down the jet bridge, find your seat, and get settled.
If you miss this first boarding call (yet another reason to plan to arrive at the airport early), then you may just want to settle in and wait until everyone else has boarded. This way, you don't have to stress about holding up the line, and the aisle will most likely be clear of other passengers and their belongings, so you can navigate it more easily.
Coordinate Your Ride
If you're visiting friends or family, hopefully they know that you'll be traveling with a wheelchair or walker, and will bring a vehicle that can properly load and carry it. However, if you're renting a car or using a taxi service, ensure that they are aware of your needs. You may also want to call the rental car company to see if they can pick you up at the curb, so you don't have to walk as far to get to your rental.
Traveling during the holidays isn't easy, and doing so with a mobility device can certainly make it more stressful. But with proper planning and preparation, you can make the process go a lot more smoothly, so that you can get to your family and friends, and enjoy the holiday season together. And, if you're in need of a mobility device like a walker or wheelchair of any kind, please feel free to contact one of our many Texas locations.