My doctor has recommended that I get a rolling walker, there's so many choices, how do I get the right one for me?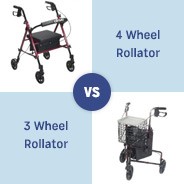 A rolling walker, or more commonly known as a rollator is a mobility device that has wheels, brakes and a seat. There are many different options available on the open market, so choosing one can be a tough task. A persons' best bet is to consult a Medical Xpress professional to ensure that the right size and height are best suited for the individual person.

Rollators come in all various solid colors and décor. You can choose a color that best fits your personality as well as one that can stand out from your friends and family. You will also need to choose whether you want a 3-wheeled rollator that has brakes, wheels and a pouch with NO seat or a 4-wheeled walker with wheels, brakes, a seat and a pouch under the seat.

Three wheeled rollators are handy for the more mobile person that just needs help with balancing and not necessarily needs to sit down. These are great for tight spaces in older homes where the halls and doorways are more narrow. They come with a handy pouch in the middle to store keys, a cellphone or a small bag of groceries.

Four wheeled rollators are the more commonly used type of mobility device. These have a seat that typically comes with a pouch below to store a purse or your everyday accessories. The four wheels give you stability from front to back. The seat, which is not designed for prolonged use but to give you a quick breather when you are out running errands or waiting in line.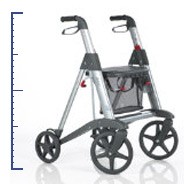 How do I know which one is the RIGHT ONE for ME?

Our Medical Xpress mobility experts can help you choose the right one for you. There are important factors to consider when narrowing down your options.

1. Is the weight limit for the rollator I'm interested in going to be applicable to me?
2. For my height, will the handles come up to my hips so that I'm not hunched over trying to walk?
3. When I sit down on the seat, do I have wiggle room or am I too squished?
Most rollators out on the open market can hold a person between 250-300lbs, for safety reasons a person weighing in excess of 300lbs needs to be in a heavier duty rollator called a bariatric rollator.
Many a day go by where we see people out in public that are hunched over walking with their rollator which is not good for your spine or overall posture. The best way to correctly measure a person for a proper fit is to ensure that the top of the handles are at the person's hip level. This helps the person walk straight so that their posture is not made worse by the mobility device that is supposed to be helping them.
Nobody likes to sit in a seat where you are totally squished in and are uncomfortable. Proper fitting of a rollator is important that the person is relaxed while sitting down and can get up and down easily.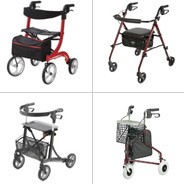 The MOST IMPORTANT safety aspect of any rollator that you choose is the brakes. It is essential that the user locks the breaks down whenever they plan on sitting down and to not unlock them until they have fully stood up and are ready to move. Not following this simple directive can cause further damage if the rollator rolls back when someone goes to sit down and the chair rolls out from underneath them causing them to fall.
The last thing to consider when choosing a rollator is wheel size. You can choose from a 6 inch or an 8 inch wheel. Both wheel sizes are great for flat surfaces such as sidewalks, indoor use or light grassy areas. For an 8 inch wheel these are best used if needing to go through gravel or bumpy outdoors use like on a ranch.
Here at Medical Xpress we are here for you. We're glad to answer any and all questions you have about choosing the right rollator for you or your loved ones. You can also be at ease as we are here for you after the sale to provide service needs like brake tightening or general questions about your rollator.