About Our Golden Technologies Lift Chairs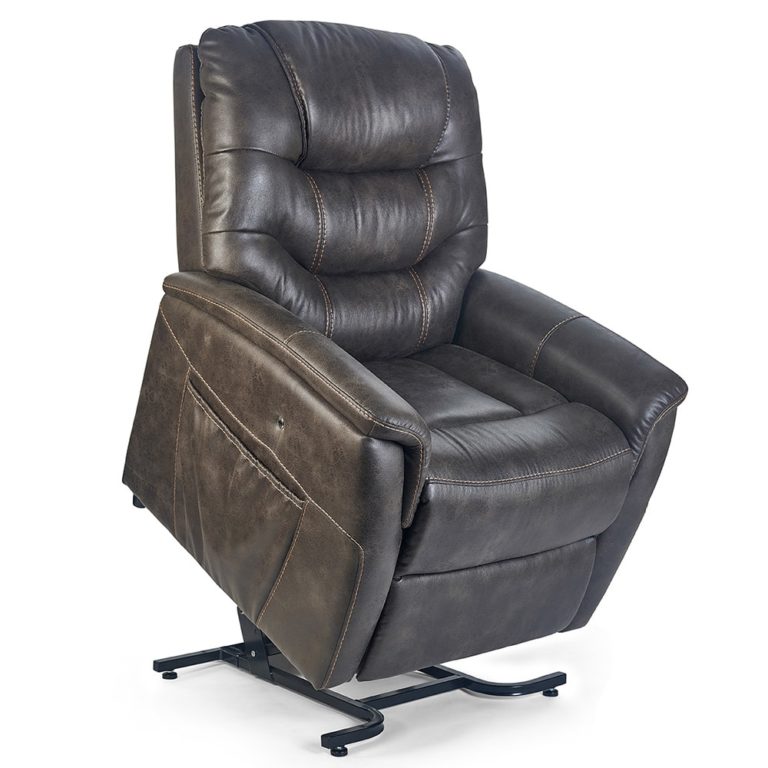 Lift chairs can provide comfort and support that helps relieve aches and pains, while also making it easier for those with reduced mobility to get into and out of a comfortable recliner. At Medical Xpress, we carry lift chairs by Golden Technologies, a leading manufacturer of a variety of mobility products. We've chosen to carry lift chairs by Golden Tech because of their exceptional quality, superior comfort, and variety of positioning options for better support. Keep reading to learn more about these lift chairs and what makes them truly exceptional.
5 Comfort Zones
One of the things that sets Golden Technologies' lift chairs apart from the crowd is its five comfort zones. These zones are all independently adjustable so that you can find the ideal position for watching TV, reading a book, or taking a nap; relieving lower back pain, reducing leg swelling, or getting into and out of the chair. The five different comfort zones for these lift chairs include:
Lower body – The seat's four-way motion helps relieve muscle and joint pain by placing your lower body in an ergonomically support position.
Upper body – The backrest moves independently from the seat, allowing you to release stress and strain from the upper body with adjustable back and shoulder support.
Headrest – The headrest can move up and down on its own, helping release tension from the neck and shoulders by supporting your head placement and encouraging the natural curvature of your spine.
Lumbar – The adjustable lumbar provides firm, customized support to take pressure off your spine and give your back muscles the tension to relax and release tension.
Twilight tilt – Golden Tech's patented Twilight Technology provides a tilting motion that offers even more positioning options than other recliners. The entire chair can be tilted backwards to elevate your legs or help you achieve a more neutral, comfortable position for a good, long nap.
While not all Golden Technologies lift chairs have all five comfort zones available, you can select a chair that offers the level of customization and adjustability that's right for you. Options include chairs with one, two, four, and all five comfort zones.
Materials and Colors
One of the wonderful things about Golden Tech's lift chairs is the wide variety of materials and colors they offer. Though this type of chair is a specialized piece of equipment, they offer nearly as many finishes as your standard recliner. You can find lift chairs in fabric or leather, brown or gray, with a huge selection of style options to fit your existing furniture and décor. This allows your lift chair to blend with the rest of your room, looking like a luxurious piece of furniture instead of the mobility aid it truly is.
Full Forward Tilt
There are a lot of adjustable recliners out there, but few offer the forward tilt that is provided by Golden Tech's chairs. The Twilight tilt function mentioned above doesn't just tilt backwards to provide you with a more comfortable reclining position; it also tilts forward, allowing you to easily set your feet on the ground and achieve a fully upright position without requiring assistance from a grab bar or another person. You will no longer have to struggle to pull yourself to your feet. With just a press of a button, a power lift chair can bring your feet to the ground without fear of straining or hurting yourself in some way.
Advanced Diagnostic System
These recliners are more than a chair; they're an advanced piece of mobility equipment, and Golden Technologies recognizes the importance of treating them that way. Each chair includes the SmartTek system, a patented diagnostic system that communicates the electrical health of your recliner using a series of LED lights that illuminate on the attached handheld control. This can help you to troubleshoot your recliner, and even offer a quick calibration or reset option via the controller.
Come Try a Lift Chair Today
If you struggle to get into and out of deep, comfortable seats in your home, but don't want to sacrifice your own comfort for mobility, come by Medical Xpress today. We keep several of our Golden Technologies power lift chairs in stock so that you can try them out for yourself and see just how exceptional these chairs can be. Stop by one of our locations, or contact us to learn more about how a lift chair can provide you with the greater mobility and comfort you deserve.