7 Walker Accessories to Improve Convenience and Functionality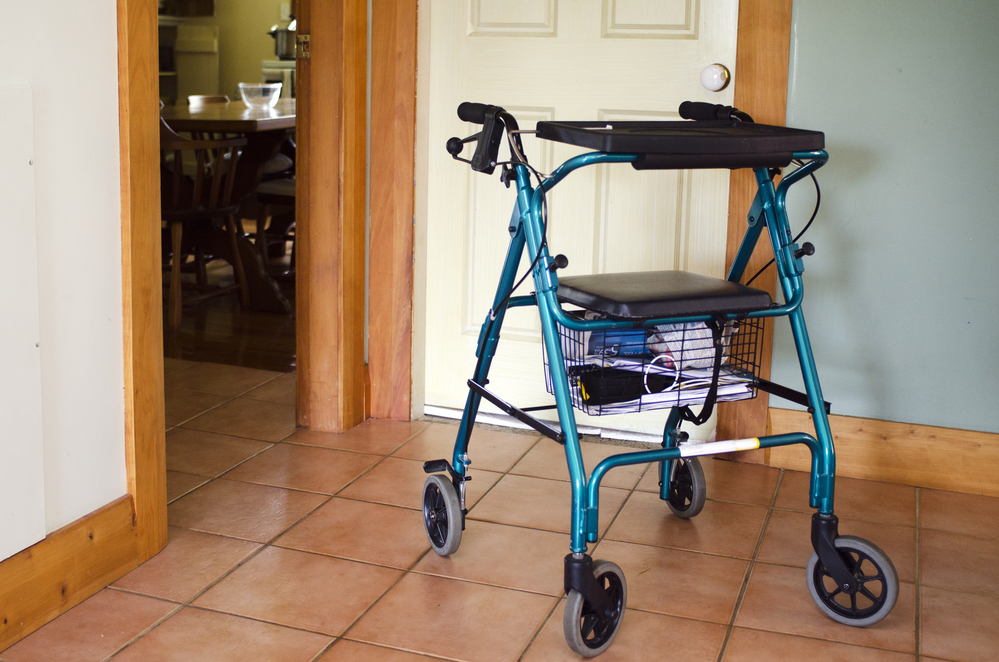 If you require the assistance of a walker to get around, you want to ensure that that walker is as functional as possible for you, and provides several conveniences to make it even more user-friendly. Of course, most walkers provide simple functionality; they help provide you with support and balance as you move about. But, with the addition of a few simple accessories, you can make your walker even more convenient and functional. Here are 7 walker accessories you might want to consider adding to your mobility device.
Trays
Trays can provide numerous functions to a walker. It can be a place to set down any items you might be carrying with you while using your walker, such as your wallet, a book or newspaper, or the mail that you just retrieved from the mailbox. It can also turn your walker into a portable table that you take with you wherever you go! Pull it in front of your armchair at home, and eat while you watch television. Use it at a park to enjoy your lunch on a park bench. This accessory provides incredible convenience every time you use your walker.
Glider Balls and Skis
If you have a standard walker with no wheels, you might find it useful to add glider balls or skis to the front legs of your walker. These little additions can help your walker to move forward more easily, and make it less likely that the legs will catch on any cracks or uneven surfaces as you walk. This makes your walker more functional and safer to use.
However, if you find that you have trouble moving a standard walker forward, consider investing in a two-wheeled walker or a four-wheeled rollator walker.
Cup Holders
Want to bring a drink along with you while using your walker. A clip-on cup holder provides a perfect place to set your drink as you walk. Whether you're taking a bottle of water on a long walk around the park, or you're just bringing a can of soda with you to sit on the sofa, it's an incredibly simple, yet supremely convenient accessory to have. And, when you're not using it to carry a cup, you can use it as a place to set small items like your keys or wallet.
Baskets
If you tend to bring many items with you when using your walker, you might want to consider investing in a basket. These are great if you want to bring a book to the park with you, or if you like to carry a purse. Whatever you have with you can be set in the basket so your hands and arms are free of burdens, and you can use your walker more effectively.
Baskets are also great for brief trips to the store. If you need to just grab a few items, you can toss them in your walker basket. However, if you're doing a lot of grocery shopping, it's best to utilize one of the store's powered scooters.
Hooks
Another accessory that is great for those who carry a purse is a hook. These simple little devices clip onto your walker, providing a convenient place to hang anything you might be carrying with you. Hook your purse's strap onto it, or hang your sweater on it if you get too warm while on your walk.
Bags
Some people who use walkers don't like how open and accessible a basket is. They fear that others can see what they're carrying too easily, and may try to grab valuable items out of it. If you share this concern, but still want to carry those items with you, consider adding a bag to your walker. These accessories are much like a large fanny pack for your walker. They zip closed, concealing any items you're carrying, and making them more difficult for others to access, while still keeping them close and accessible to you.
Cell Phone Holder
Very few people are without a cell phone these days. If you like to carry your phone with you, consider adding a cell phone holder to your walker. These are much like cell phone holders that attach to the dash of a vehicle. They hold your phone securely, while keeping it in plain sight. You'll easily be able to see if you're receiving a call while using your walker, and can answer it with a single tap, rather than having to stop and dig your phone out of your pocket or purse.
To see what walker accessories we carry, check the online inventory for the location nearest you, or stop by one of our stores today!