5 Ways for Senior Citizens to Feel Safer in Their Own Homes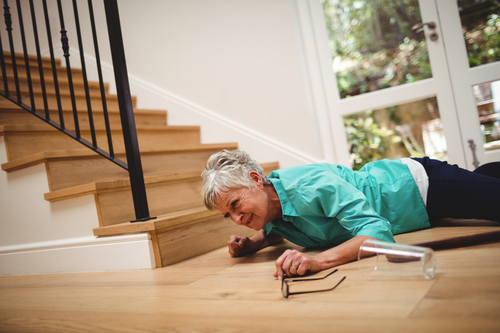 As we age, it's important that we take the time to evaluate our own personal safety. Often, this is based on changes to our mobility or to our cognitive abilities, and these changes can be difficult to acknowledge. But when we do acknowledge them, many people may feel that they are not entirely safe in their own homes. Whether you experienced a fall last year or found yourself needing to call for help just to get out of the bathtub, you may be asking yourself, "Am I safe in my own home?" If this is you, here are 5 changes to make this year to feel safer when you're home alone.
Eliminate the Use of Stairs
Stairs are one of the most dangerous home features for a senior citizen with limited mobility. If you live alone, navigating the stairs can be a frightening ordeal, and you might not feel safe if you have to go up or down them on your own. The best option for your safety is to eliminate the use of stairs altogether.
For exterior steps, you may want to look into installing a ramp over the stairs, so you can enter and leave your home without difficulty. For interior staircases, a stair lift is likely a wise investment. These allow you to sit in a chair that can move you between floors, so that you never have to worry about navigating the stairs on your own.
Invest in a Mobility Aid
Sometimes, just moving about your house can be a task that you don't feel safe undertaking. Changes in floor coverings, uneven surfaces, and slippery tiles are all very real hazards that you may face. If you worry about your general mobility at home, you should invest in a mobility aid. A simple cane or walker can allow you to move about your home more easily, without fearing for your personal safety.
Remove Obstacles in Your Home
For a person with limited mobility, everyday objects can become dangerous obstacles. So, do a thorough examination of your home (or have a friend or family member do it for you) and remove potential obstacles or hazards as best as you can. Here are a few suggestions of what to look for:
- Tack down the edges of rugs to avoid tripping on them.
- Remove cords from any areas where you may walk.
- Replace high thresholds with sloped surfaces to avoid trips and falls.
- Put slip-proof mats in the tub and shower stall, and ensure your bath mat has a non-slip bottom.
- Store heavy objects at waist level so you don't injure your back when bending to pick them up.
Such minor adjustments can make your home a significantly safer place to live, and can help you to feel less fearful about being home alone.
Make Your Bathroom Safer
Bathrooms can be especially hazardous for senior citizens who aren't completely independent in their mobility. Slippery floors, deep bath tubs, and even shower stalls can be difficult to navigate alone. Rather than worrying about your own safety in the bathroom, make small improvements to make your bathroom safer for you to use alone.
Simply installing rails or handles near the toilet, shower, and tub can help you to feel significantly safer and more confident in your ability to tend to your personal hygiene needs. If you feel you need further changes to your bathroom, consider a shower chair or a walk-in tub. These types of upgrades can allow you to live more independently, and reduce your fear of unfortunate slips and falls in the bathroom.
Consider an Emergency Call Button
If you have ever stayed awake at night, wondering what would happen if you fell and couldn't get to a phone, then it may be worth considering an emergency call button. These simple devices have saved lives, and can help you rest easy, knowing that you won't be left alone in the event of an injury.
Typically, you will wear the call button on your person, and if you find yourself in need of assistance, all you have to do is press the button, and emergency responders will be sent to your home. It can provide incredible peace of mind to senior citizens living alone, as well as to their family members.
Your home should be a haven, and you should never have to worry about whether or not you are safe when you are alone there. These minor adjustments can help senior citizens feel safer in their homes, and allow them to live comfortably in a familiar space for a little longer.